Modern Kitchen
This is a modern cooks kitchen. Open shelving, well placed storage and stainless countertops make this kitchen, efficient, and a joy to be in.
Shaker Kitchen
A two tone kitchen that utilizes all the space available. 
White Kitchen
A clean long kitchen with the matching booth which creates unity throughout.

Stained kitchen
The island in this kitchen has been lowered. This will allow the homeowner to make bread more easily.

Blue and Walnut Kitchen
Dark blue kitchen with walnut counter top. The walnut keeps this very classy kitchen from getting to formal.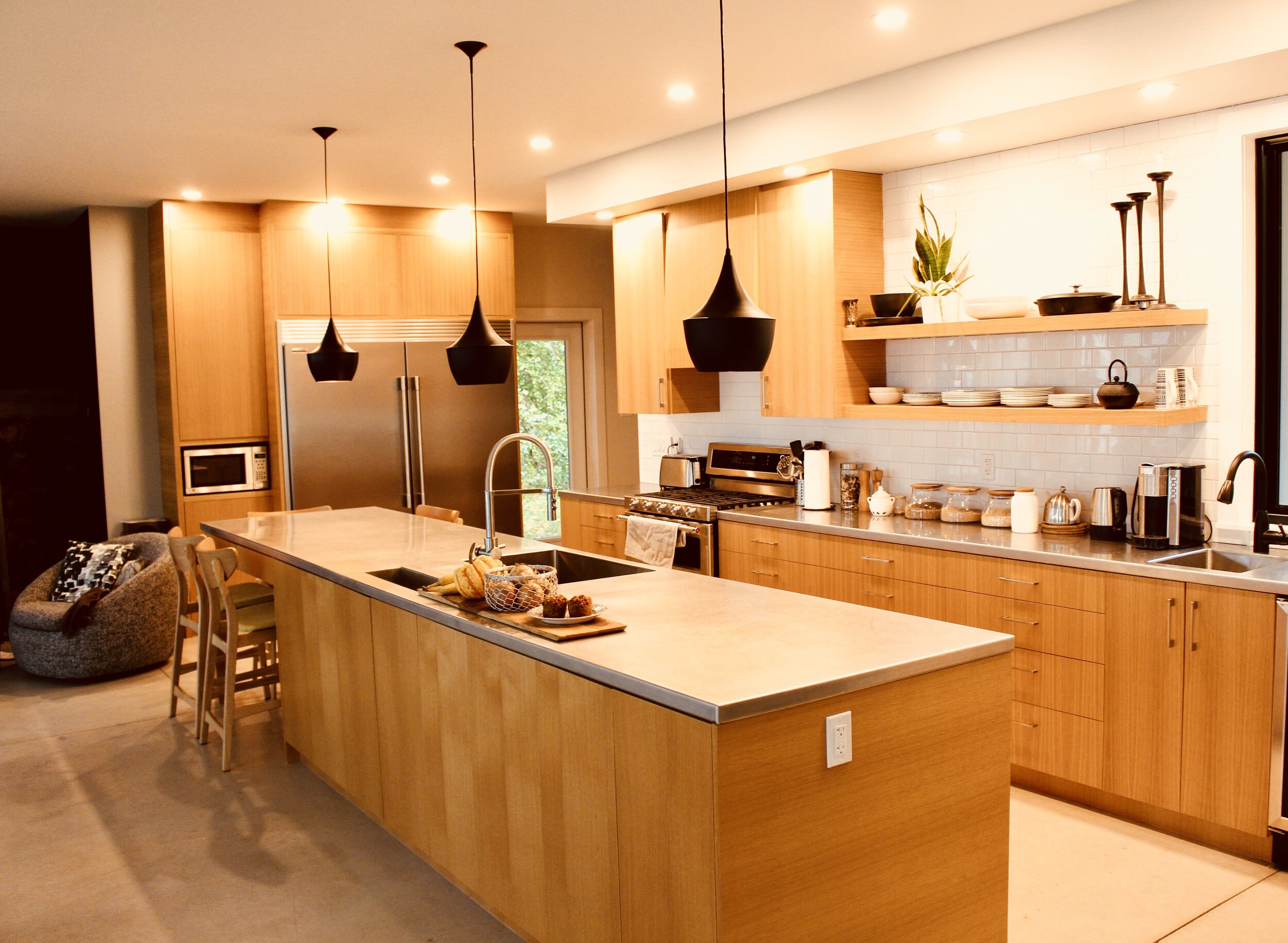 White Oak Kitchen
Modern rift sawn white oak kitchen with ample storage to fit the clients needs. Seating on the end provides a space for the guest and the cook to face each other while not taking up valuable prep area.
Kitchen Table
White oak top and walnut bottom create this linear table.
Slab coffee and side table
The side table has a carved in divot that is the perfect size for magazines, keeping the surface clean and flat.
Nesting Tables
Soft maple and ash nesting tables.
Nesting Tables
Another configuration for the nesting tables. This allows everything to have its own level and place. A lamp on one, magazine on another, drink on another.  
coffee table
Maple coffee table that raises to create a more comfortable work surface.
Barn board side table
Leaving the rough part of the barn board exposed reveals it history. These boards are spaced a 1/4" apart so that anything placed on it will not fall over.
Clean Vanity
Large vanity where storage was the most important thing. Rift cut white oak with built in aluminum handles give clean horizontal lines. This vanity holds everything from extra towels to cleaning products. Large drawers bring everything out to you, not you going in after it.
Bathroom storage
This unit is situated behind the shower creating storage.
Linen Storage
The client wanted storage and a place to do some ironing. The unit has drawer storage and plenty of shelf storage. There is also hanging storage. The storage unit is located in a bathroom across from the washer/dryer. The bottom of the unit matches the vanity and the barn board upper doors brings in visual interest.
Linen storage
With the doors open an ironing board drops down revealing more storage for everything the client needed to do ironing and laundry.
Walnut Vanity
This walnut vanity not only provides much needed storage for all the things in a bathroom but is a classic look that will last for years.
Bungy cord chair
Redefining how someone interacts with a chair. You sit down at arm height then sink down to seat height. The chair then helps you get out.

Maple dovetail chair
Each and every joint on this chair is a dovetail. The strength of the dovetail is perfect for the stresses that a chair is put through.

kitchens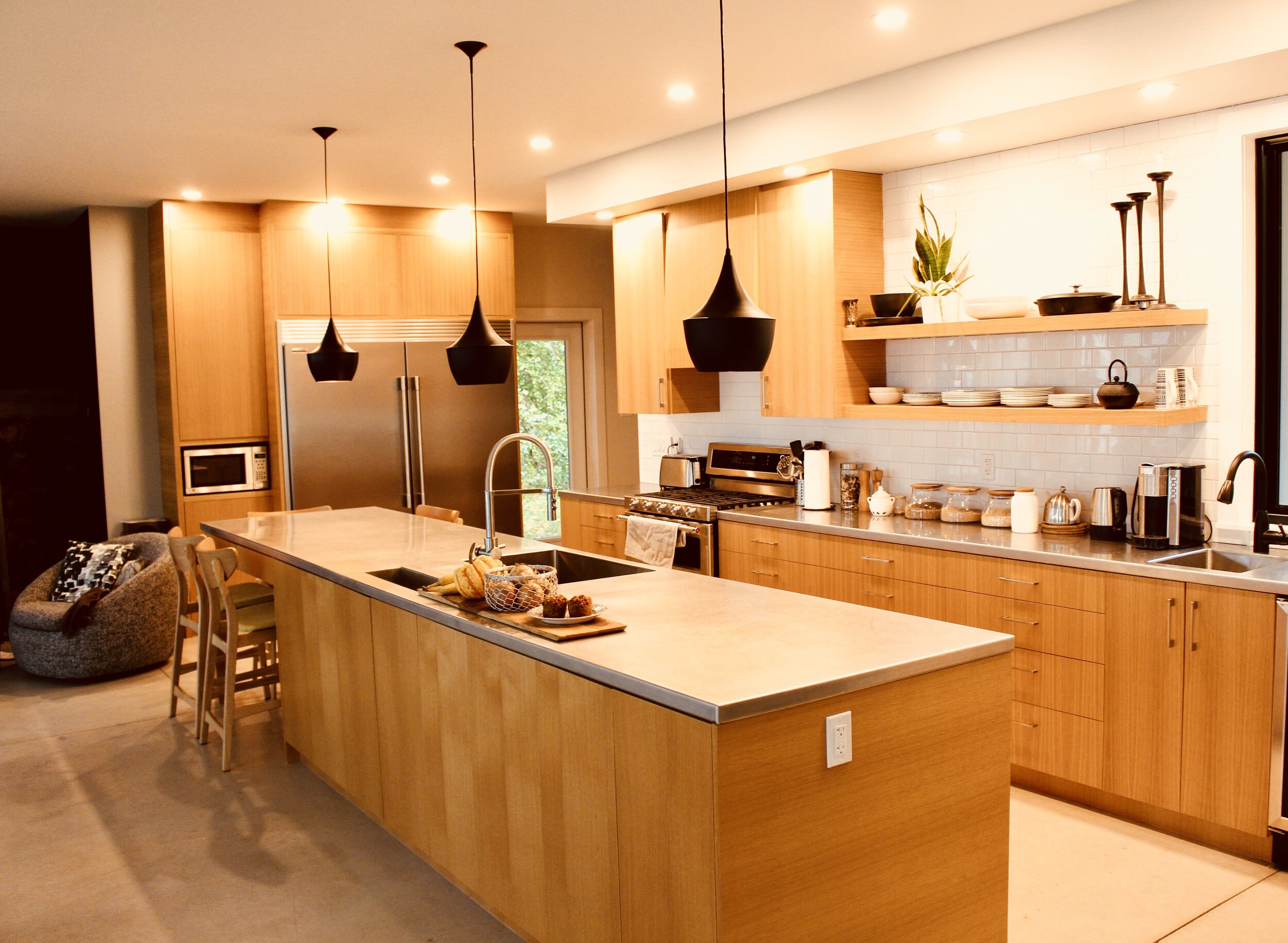 wood slab tables
tables that can come in any shape and size.
Bathroom
Kitchens, Vanities, tables, chairs, entertainment units, laundry areas.
Chairs
Kitchens, Vanities, tables, chairs, entertainment units, laundry areas.